You'll always save the most when you shop in one of our warehouses. But we know things get hectic and some days you just don't have time to walk the aisles. Keeping that in mind, we now offer two great online options for our valued customers!
Pick-Up: Place your order online, choose your date and time for pickup, and we'll have your order waiting when you arrive!
Delivery: We've teamed up with a great delivery partner who will pick the items in your online order and deliver them directly to your business!* (Not available in all locations.)
Have questions or need website assistance?
Email us at [email protected]
Call customer service at (929) 955-4789 or (929) 955-4865 (para español)
Frequently Asked Questions
How do I place an order? It's easy! Start here and log into the site. From there, you can create a list of items or simply add items to your cart. When you have everything you need, submit the order. During checkout, you'll select a time to pick-up or have products delivered. When you place the order, we'll immediately email you a confirmation. Check out our online ordering video here.
When can I get a delivery or pick up my order? You can usually get an order the next day, assuming there's a slot open. During checkout, you'll see available dates and times for your order.
How much do the services cost? When you order online, the prices you see include the pickup or delivery service. They're not the same as our in-store prices, but we know they'll beat the competition! (Additional fees may apply for delivery in some locations.)
Can I add an item after I place my order? In most cases, you can. Find your order confirmation and hit "Reply All" on the email. You'll be communicating with the team that is working on your order. If you forgot something, they can likely add it on. (Just be sure to hit "Reply All" so we'll see the email.)
Do you deliver to my area? Delivery is a new service and we are constantly adding zip codes. If the site tells you that we don't currently have delivery in your area, please feel free to email us at [email protected] for an update.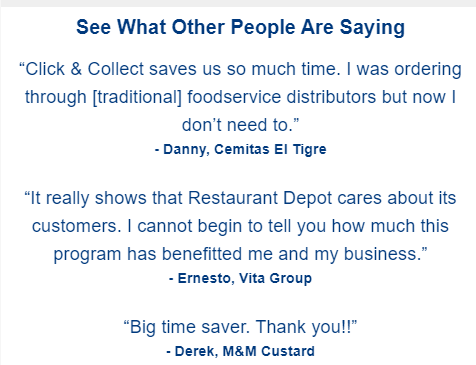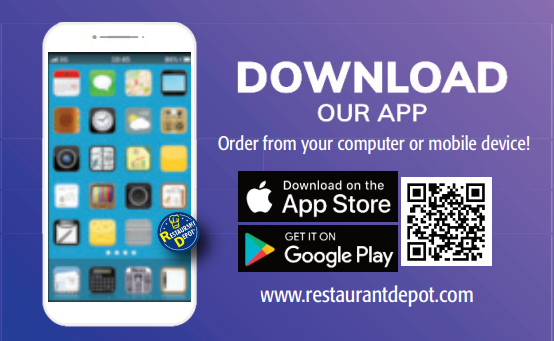 *Items in your order are being sold directly to you via your membership account. A third party service will deliver your order. Restaurant Depot does not represent or warranty that the delivery service will meet your expectations or instructions in performing any service. Any dispute, injury, damage or loss you may have related to the delivery service, including, but not limited to any dispute related to the time, place and manner of delivery, is between you and the delivery service. By processing this order for delivery, you agree to the foregoing terms and disclaimers of liability